Drumming Therapy Addiction Treatment
"Music expresses that which cannot be said and on which it is impossible to be silent."
Victor Hugo
Drumming Therapy at UKAT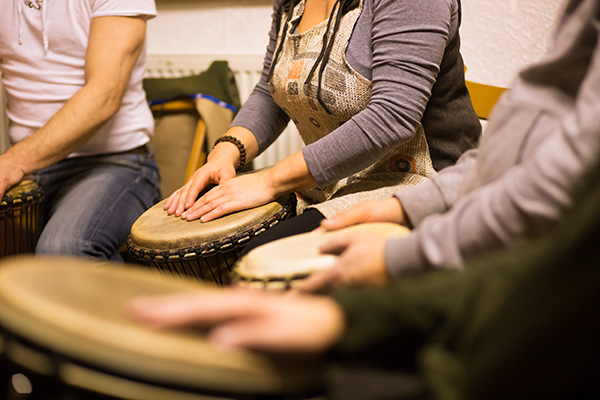 Drumming therapy is an excellent workout for your brain because when you drum, you access and therefore exercise your entire brain. It is a universal language, and anyone can join in and share the emotion.
Research has suggested that drumming provides positive therapeutic, life-improving and community effects, giving you an experience where you can connect with yourself and others in order to release, restore and heal.
We currently offer drumming therapy at our Luton-based rehabilitation centre, Liberty House.
What Are the Positive Effects of Drumming Therapy?
Drumming therapy has been shown to support those struggling with addiction in many ways. Here are just a few ways in which drumming therapy can help during the stage of early recovery.
Improves psychological wellbeing
Reduces stress and anxiety
Alleviates physical and psychological tensions through self-expression
Helps manage chronic pain
Provides a release for negative feelings and emotional trauma
Decreases impulsive behaviours
Boosts the immune system
Allows you to learn new social skills
Increases self-esteem and confidence
Drumming Therapy and Addiction Rehab
Integrating drumming therapy into our rehabilitation treatment programmes has proven to be a brilliant way to engage and to feel connected. A drum circle provides the opportunity for our clients to connect with their own spirits at a much deeper level, and has profound similarities to Group therapy.
We have seen how it helps reduce impulsiveness by being persistent in doing something despite the level of difficulty or delay in achieving immediate success. This in itself challenges preconceived ideas and assumptions. In turn, self-esteem is boosted by overcoming negative self-beliefs.
During drumming therapy, clients might begin their experience by believing that "drumming is not for me" and "I won't be able to do it." After the sessions, they will think differently, they will have altered their perspective and increased their confidence in their ability to achieve their goals, directly positively influencing their recovery from addiction.