Content Overview
Cannabis is considered one of the most difficult substances to quit, and with the increasing social acceptance surrounding it, this can make it hard. However, if you have recognised your problem and are ready to kick your cannabis use, read on for more options for treatment and rehabilitation and how best you can succeed on your journey to recovery.
The Royal College of Psychiatrists states that cannabis is the most widely used substance in the UK. Although usage has reduced since the mid-1990s, there are over two million Brits who used cannabis in 2017 alone. Frequent use is rampant amongst younger people, aged 16-24; in spite of health warnings about the dangers of abusing cannabis in any form, many people who use the drug believe it is harmless.
Most of the cannabis on British streets is super-strength skunk, which might explain an escalating rise in the number of mental health problems within the UK. Tests conducted by researchers at Kings' College London found that almost 94% of seizures were linked to the dangerously high potency of cannabis. This means that almost everyone who is taking cannabis in the UK is in the highest risk bracket for psychotic disorders, behavioural disorders, poisoning and other mental health problems.
Importance of Cannabis Addiction Treatment
Also known as dope, marijuana, grass and weed, cannabis is a Class B drug that can lead to psychological (rather than physical) dependence. Unlike alcohol and cocaine, which are characterised by signs of physical dependence, most of the symptoms of cannabis are emotional or psychological. Addiction takes root in your mind until it has taken over the other aspects of your life.
When cannabis is consumed, it can have hallucinogenic effects that distort your perception of reality, alter mood, impair short-term memory and concentration, as well as cause a loss of inhibitions. For young people who take cannabis, the damage to their still-developing brain is far greater than in adults.
If you're exhibiting any of the symptoms of cannabis addiction or feel the need to use more to get 'high', it's important to seek treatment for cannabis addiction. The longer you wait, the more dangerous it is to your health and the harder it is to quit.
What causes Cannabis Addiction?
At its core, cannabis addiction shares many of the root causes of other addictive substances. One of the main reasons why people abuse cannabis is to experiment with it as a gateway drug. Soon after, it becomes a stress reliever, a way to escape problems or make your day more bearable. Addiction occurs when you use cannabis for a lengthy period of time.
Increasing the use and strength of the cannabis taken accelerates the progress of dependency. Addiction can also be caused by environmental and genetic factors, as well as a predisposition to any mental health issues. For young people, the main risk factor of addiction is exposure at an early age, poor parenting, affiliation with drug-using peers, regular cigarette smoking and easy access to cannabis.
Getting Cannabis Addiction Treatment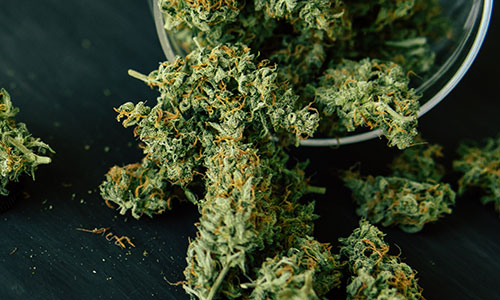 Admitting you have a problem with cannabis addiction is difficult, especially when you're surrounded by others who won't admit they also have a problem. If you notice that cannabis kills your motivation, affects your relationships with others, causes physical or psychological problems or makes you give up any personal aspirations, you'll need treatment for cannabis addiction.
The first step is to call a helpline and speak with a counsellor, who will use research-backed techniques to help you access the right treatment options that fully cater to your addiction treatment needs. Time spent in rehab helps anyone who is struggling with addiction – whether physical or psychological. NIDA reiterated this fact when stating that treatment options for cannabis are the same for other addictions.
Cannabis Addiction treatment Modalities
The treatment for cannabis addiction is similar to that for other drug addictions. Although there isn't any specific medication for treating the addiction, there are detox centres that provide a safe and secure environment for you to wean yourself off of cannabis. Medical staff are also on hand to supervise and ensure you remain calm in case of a severe panic attack. Behavioural treatment that has shown promise includes:
Contingency management
A therapy-based programme that focuses on the provision of tangible rewards when you exhibit desirable behaviour.
Cognitive behavioural therapy
A therapy approach that teaches you to identify and correct problematic behaviours to quit cannabis abuse. It also addresses other problems that may have led to substance abuse.
Motivational enhancement therapy
An intervention that produces internally motivated change by engaging you in treatment and mobilising your internal resources.
Choosing the Best Inpatient Cannabis Rehab
When considering the best inpatient rehab options, the first thing to look for is a rehab centre that treats cannabis addiction. The clinic in question should staff medical professionals who are capable of offering psychotherapy treatment related to your addiction. There should be direct supervision round-the-clock, medical experts on the ground at all times and immediate access to emotional and psychological support whenever you need it. A few other things to consider include:
The location of the rehab facility
The size of the programme
The expertise of staff to treat psychological addiction
Duration of stay
Licensing of the rehab centre and its staff
Residential Cannabis Rehab vs. Outpatient Rehab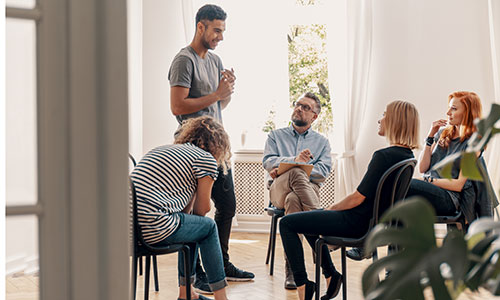 While there has been endless debate about the best treatment options for addiction, both programmes are not without their merits and defects. Inpatient rehabs are intensive, residential programmes that require you to live in the facility. At the rehab centre, you're surrounded by staff and other recovering addicts, who provide support to help you on your journey.
There are no drugs on site, so the chances of relapsing whilst in treatment are zero. Research has shown that long-term inpatient stays ranging from 60-90 days show the best results and increase your chances of maintaining lifelong abstinence from cannabis.
Outpatient rehab is less restrictive because you'll attend rehab from home and are exposed to certain factors that might trigger a relapse. Treatment involves several therapy sessions at the clinic, including group counselling, education on cannabis addiction, relapse prevention and group therapy. Treatment usually lasts between three to six months.
Private Cannabis Rehab vs. NHS Treatment
Private rehab centres in the UK are run as a business and funded by private entities. They offer comprehensive treatment that is more intense, exhaustive and beyond the scope of the NHS. Treatment is carried out by experienced addiction experts, most of whom are in recovery for cannabis addiction themselves. They provide an environment that's comfortable, homely and private enough for you not to have to worry about prying eyes or exposure to anyone outside the facility.
The NHS provides government-funded treatment that is free for UK residents. It is mostly conducted on an outpatient basis, while detox is usually delivered in groups to save on costs. However, patients don't have speedy access to support, nor do they stay on site during treatment. There is usually a long waiting list to access inpatient rehab, which could take four to six weeks or more.
Cannabis Rehab Options
There are two options to consider for rehab:
Inpatient rehab: Inpatient rehab is the preferred option for those who want to eliminate temptation and fully focus on recovery. There are no distractions when you receive treatment as an inpatient. Options include executive, luxury and standard rehab.
Outpatient rehab: The major difference between inpatient and outpatient treatment is that you receive treatment from home in the case of the latter. The focus is on using therapy to help you recover from cannabis addiction. Specific therapies used in outpatient treatment include the Matrix model, Motivational Interviewing and Cognitive Behavioural Therapy.

How Long Does Cannabis Addiction Rehab Take?
There is no precise duration for addiction treatment; it will largely depend on your risk factors, the severity of your addiction, how long you've been using cannabis (and any combined substances being used alongside it), as well as the presence of any co-occurring disorders.
Short term-stays range from 28-30 days. The recommended length is 60-90 days to ensure treatment is comprehensive, holistic and complete. Some patients who've abused drugs for a lengthier period of time might decide to stay longer to increase their chances of maintaining life-long abstinence from drugs.
What happens during cannabis rehab?
When you enrol at a rehab centre, treatment begins with a comprehensive intake to determine the severity of your addiction and develop an individualised treatment plan for you. After intake, you'll be taken to the detox centre, where medical professionals supervise you as your body rids itself of all cannabis traces. Once you've completed the detox phase, you'll then move to rehab.
Your daily schedule might include: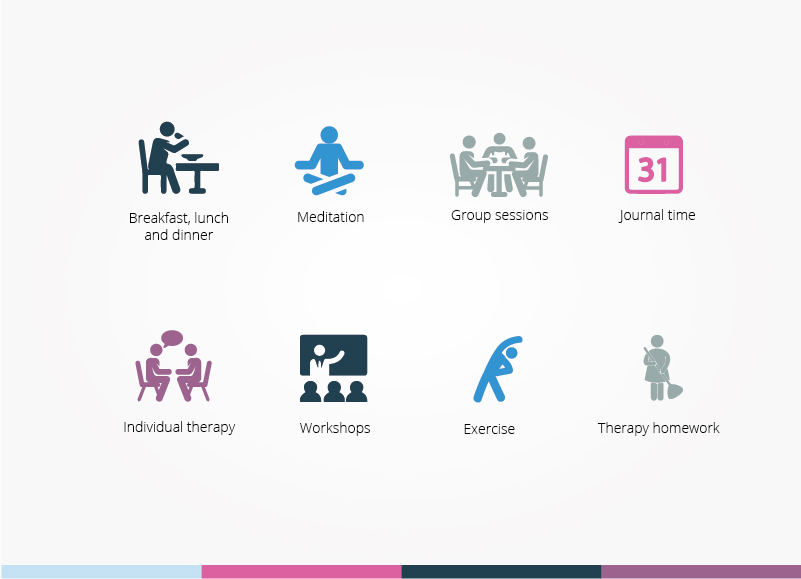 How to Pay for Cannabis Rehab?
The first option to consider when paying for rehab is your medical insurance, which could cover the full or partial cost. This will depend on your type of insurance policy, though your insurer will be able to provide more information on this.
If you don't have insurance – or the cost is still fairly expensive after insurance has been taken into account – you might consider asking for financial assistance from friends or loved ones.
Another option is to start a crowdfunding campaign. This is a great way to garner support from the general public. You could also take out a home equity loan to cover the cost of treatment or pay with your credit card if your limit allows. There are also NHS grants you can apply for or rehab scholarships that cover the basic cost of treatment.
Cannabis Rehab vs. Detox-Only
Detox alone is less effective for cannabis addiction, as it's mostly a psychological dependence. Detox removes the drug from your system, but it doesn't address the underlying reasons why you abused cannabis in the first place.
A rehab centre is the best place to receive treatment. The therapeutic environment aids healing, while empathetic staff provide support and therapists help you understand your addiction. By having a better understanding of your addiction, you can identify potential triggers and work towards addressing all issues from your past.
You'll also learn to establish a schedule that you can continue to use long after rehab has been completed. The people you meet in rehab inspire and motivate you as much any therapy. Removing yourself from a drug-filled environment gives you a fresh perspective into your life and makes it easier to make the desired changes that wouldn't have been possible if you only detoxed (without attending rehab)
Effective Treatment for Cannabis Addiction
The most effective treatment for cannabis addiction includes therapies that have proven successful in helping many patients. However, a comprehensive assessment to diagnose the extent of addiction is the first step. The treatment plan that is drawn up thereafter is unique to your symptoms and risk factors.
Most teenagers who abuse cannabis usually suffer from psychiatric disorders and might be using alcohol or other substances as well. Treatment includes medication for psychiatric disorders, sleep disorders or dual substance addiction. It will also comprise therapies such as CBT and Contingency Management. There are no approved medications, but those that have shown promise include Ambien, BuSpar and Neurontin.
What to Expect from Cannabis Treatment and Rehab?
Therapy is the major treatment for cannabis addiction. It helps the addict to find positive ways to cope with triggers, without relapsing. It also equips you with problem-solving skills that help you build a meaningful life that isn't fuelled by drugs. According to NIDA, most people who enrol in rehab have tried to quit more than six times but failed.
Rehab provides a safe space and regimented programme that helps to re-structure your life. Therapy programmes include Cognitive Behavioural Therapy, Motivational Enhancement and Contingency Management.
What Happens after Rehab?
Your primary goal after rehab is to maintain a drug-free life and return to normal activities which include your friends, family, work and hobbies. While this cycle is important, it could also trigger a relapse.  Therefore, you'll need to understand your triggers, so you can prepare to guard yourself against them.
If your friends initially triggered your addiction, you'll need to build a new social life. At first, coping with loneliness and boredom might be difficult, but you'll soon find a new social outlet that doesn't involve cannabis, such as volunteering, taking a cooking class, playing an instrument or taking part in physical activities.
What are the Aftercare options?
Aftercare is the generic term used to describe any follow-up treatment you receive after inpatient rehabilitation. The goals are the same as rehab, aiming to help you maintain life-long abstinence from drugs and alcohol through continuing care.
Sober residences
Where you'll live with other recovering addicts in a therapeutic community. You'll engage in continued group therapy, individual therapy sessions, 12-step programmes and form peer support networks.
Relapse prevention
Whilst in treatment, you'll work with a specialist to develop a relapse prevention plan that will help you maintain abstinence after rehab. This will include exercises such as yoga and meditation, as well as nutritious meals, continued therapy, walking the 12-steps, attending support group meetings and following recovery goals established during treatment.
Treating Cannabis Abuse at Home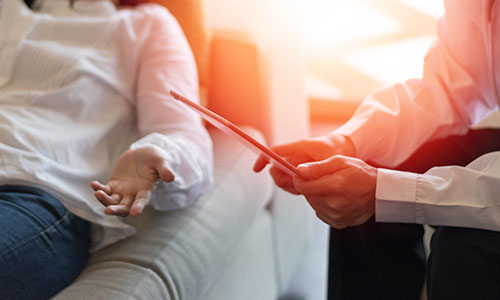 Rehab isn't always necessary to treat cannabis addiction, because it is not a physical addiction. However, if you're a long-term addict, you'll benefit more from a structured environment that eliminates the risk of relapse.
Psychotherapy is at the core of cannabis addiction treatment, so you'll need to attend treatment at a designated rehab facility. Research has also shown that cannabis addiction responds to psychological therapy in a group or individual setting.
Frequently Asked Questions
What causes addiction?
There is a multitude of reasons why you could become addicted to drugs. Scientists have narrowed it down to a combination of risk factors such as having a parent who abused drugs, living in an area where drug use is normal, mental health issues, peer pressure and family problems such as divorce.
How can addiction affect you?
The impact of addiction depends on the substance in question and the way in which it was consumed. Cannabis addiction is not physical, but affects your mind, altering your perception of reality, affecting your ability to learn or remember things, as well as inducing hallucinations and even psychosis in some situations.
Is cannabis truly addictive?
While some people believe that cannabis isn't addictive, the truth is that you could develop a psychological dependence if you take it over a long period of time. It is officially diagnosed as a substance use disorder in the DSM-V.
At what point does cannabis use require intervention?
If cannabis affects your relationships, leads to health-related problems or makes it impossible for you to meet the major responsibilities in your life, you'll need to seek treatment for addiction.
What does a cannabis addiction programme look like?
Cannabis addiction clinics in the UK usually feature a rehab centre, where you can safely wean yourself off the drug. There are medical professionals on site all day and night to supervise you. Meals are freshly prepared by a chef, while you'll be expected to follow a schedule that guides daily activities in the rehab centre, as well as take part in certain recovery programmes.
What are the effects of cannabis on perception and thinking?
Long-term cannabis abuse affects your ability to complete memory-related tasks and decreases your motivation for daily activities. It also intensifies schizophrenia and could lead to psychosis – especially given the potency what's currently available on the streets.
Is there any advice for the family?
The first thing to do if you suspect your loved one is abusing cannabis is to educate yourself about the signs and symptoms of the addiction. If they exhibit any of these symptoms, encourage them to get help, but do not feed their drug habit in any way. Detach yourself from the addict's behaviour, but let them know that you're there for them whenever they need you. If they refuse to get help after a while, you might have to hire a professional interventionist to help.