Rehab for LGBTQ+
Over the last few years, much work has been done to dismantle the discrimination against the LGBTQ+ community. Yet, inequitable attitudes displayed on a daily basis, such as that exhibited at the 2022 Qatar World Cup, stifles such progress. Events like this have brought home the reality of what those in the queer community face every day; judgement, shame and hate. The constant onslaught of direct or indirect discrimination can drive people to seek comfort in unhealthy substances or behaviours, making addiction rates high amongst those who identify as gay, lesbian, bisexual, transgender and queer. This is why UKAT is proud to declare its support and solidarity with LGBTQ+ individuals, and we are determined to help them heal from addiction like anyone else.
UKAT works closely with our LGBTQ employees to fully gain an insight into what you may be feeling, and we want to assure you that we provide a safe, welcoming space where you can receive the rehabilitation care you need. Our team believes everyone deserves the right to effective addiction treatment, regardless of sexual orientation or gender.
What to expect from LGBTQ+ rehab
Anyone seeking addiction treatment deserves to feel safe, comfortable and welcome. But for LGBTQ+ individuals, finding a rehab centre that understands and affirms their identity can be a challenge. LGBTQ+-friendly rehabs provide a supportive and inclusive environment where clients can begin the journey to recovery.
Here are some of the things you can expect from our rehabs:
A non-judgemental attitude: One of the most important things you can expect from our LGBTQ+ friendly rehab is open-minded and non-judgemental staff. Our team will respect your identity, preferences and pronouns and they will never try to change who you are as a person.
Affirming care: You can expect to receive affirming care at our LGBTQ+ friendly rehab. This means that your therapist will understand your unique experience as an LGBTQ+ individual and will tailor their approach to meet your needs.
A safe and inclusive environment: Our LGBTQ+ friendly rehab boasts a safe and inclusive environment for all our clients. As stress is a major influencer on relapse, we aim to create a relaxing environment where you can let go of your worries.
UKAT's LGBTQ+ friendly rehab facility is a place of nurturing and healing. We have a team of professionals who are considerate of the unique needs of the LGBTQ+ community, and our rehab programme provides invaluable resources for those struggling with substance abuse disorders.
One of our Alumni Coordinators, Celeste, is a part of the LGBTQ+ community, and identifies as non-gender binary, so understands how important it is to have representation in recovery. They support clients through their post-rehab journeys, are a regular host on UKAT's podcast and have written a personal blog discussing everything from relapse prevention to triggers at Christmas.
LGBTQ+ rehab and co-occurring disorders
The stigma that so many LGBTQ+ people face can impact every corner of their lives. This constant fear of being judged, harassed, denied or even just the inability to be your true self means that those who identify as LGBTQ+ are more likely to develop mental health issues, including:
Low self-esteem

Anxiety

Depression

Disordered eating

Self-harm and suicidal ideations
Sadly, transgender youth are at the greatest risk – they are three times more likely to experience mental health issues and subsequently face problems with substance misuse.
UKAT is aware of these co-occurring mental health issues that often trigger and fuel the vicious cycle of substance abuse and addiction. Our LGBTQ+ rehab facility therefore acknowledges and supports you as a whole person, not only treating your substance abuse disorder but also teaching you how to cope with any other mental health issues.
What therapies are included in LGBTQ+ rehab?
You may be wondering what therapies are included in LGBTQ+ rehab and how they might benefit you. While there is no one-size-fits-all approach to recovery, UKAT offers a wide variety of therapy modalities so that you can find the technique that works best for you.
Some of the addiction therapies we provide at our LGBTQ+ rehab include:
Cognitive behavioural therapy (CBT): works to pinpoint harmful thoughts or behaviour patterns and gives you the opportunity to change the negative cycles that may lead to substance abuse.
Dialectical behavioural therapy (DBT): combines mindfulness and acceptance strategies that can help you to embrace who you are as a person and develop a newfound confidence away from drugs or alcohol.
Family therapy: helps to rebuild fractured relationships, teaches your family how to navigate sensitive topics and guides them to a place of understanding. This, in turn, can promote greater satisfaction with life and lower perceived burdens.
Group therapy: allows you to connect with the wider rehab community and develop a strong connection with others – this often plays a vital role in rehabilitation and recovery. While it may seem daunting to share your experiences with others who are not part of the LGBTQ+ community, we often see a great sense of understanding and compassion among our clients. You will find commonalities in your addiction struggles, and it may even surprise you how quickly bonds are built with a new type of community.
The goal at our LGBTQ+ friendly rehab centre is to help you work through trauma or issues that may be contributing to your substance abuse disorder. With our help, you can begin to live the sober life you are aiming for.
LGBTQ+ and discrimination
Gay, lesbian, bisexual, transgender and queer people are much more likely to experience discrimination and even physical harm in their day-to-day life. A recent study outlines these issues, reporting:
One in five LGBTQ+, and a staggering two in five trans people, have experienced a hate crime in the last year

One in six LGBTQ+ people have experienced discrimination in a restaurant, bar or nightclub

One in ten LGBTQ+ people have had difficulties when looking for a house or flat to rent or buy

One in four black, Asian and minority ethnic LGBTQ+ people have been discriminated against when trying to access social services
With these shocking figures, it is no wonder that alcohol and drug misuse is so prevalent in this community. In fact, around 28% of gay or bisexual adults have taken drugs, compared to only 8% of heterosexual adults. This is because LGBTQ+ people are more likely to suffer trauma, feelings of isolation, loneliness and a lack of support – all driving forces of substance abuse and addiction. For anyone that resonates with this, Galop is a charity available for those suffering hate crime and abuse.
Why are members of the LGBTQ+ community less likely to go to rehab?
The prospect of rehab can be incredibly daunting for anyone suffering from a substance abuse disorder. For individuals in the LGBTQ+ community, however, those worries increase tenfold. After possibly experiencing a lifetime of prejudice in social or professional settings, and even with law enforcement and healthcare providers, you may be understandably weary. For example, 38% of people trying to access public health services have reported negative experiences due to their gender identity. An enormous 80% of transgender respondents also reported difficulties when trying to access healthcare.
It is perhaps because of this learned distrust that LGBTQ+ people do not get the help they need. The fear of being rejected or experiencing hostilities from others in rehab may play a huge part in the hesitation you feel. For those who do enter into treatment, studies have shown that LGBTQ+ people are likely to demonstrate more severe substance abuse disorders.
Don't let your fears overrule your decision to recover from your addiction. Finding an LGBTQ+ friendly rehab centre will give you the chance to live a healthier life. You are deserving of a happy, bright future away from the harmful side effects of alcohol and drugs. Let us help you to get there.
How can I access LGBTQ+ rehab?
When it comes to addiction treatment and rehabilitation, the LGBTQ+ community has long been underserved and underrepresented. UKAT is aware of the dangers that drive the LGBTQ+ community to substance abuse and addiction. Providing rehab for gay, lesbian, bisexual and transgender individuals is therefore vital in fighting these disparities. As an already vulnerable and marginalised group, it is so important to be able to access the treatment you need. Our team is dedicated to helping you overcome your addiction – we will do everything we can to cater to your personal needs and support you through recovery.
As a previous UKAT client, we hope that Carl's words are able to offer some reassurance if you are contemplating rehab. He says:
"It's just an environment in which you are not judged. The more you give, the more you get out of it. If you want to change then it's available for you."
If you would like to discuss your treatment options, don't hesitate to call our admissions team on 0808 239 1277 or email info@ukat.co.uk.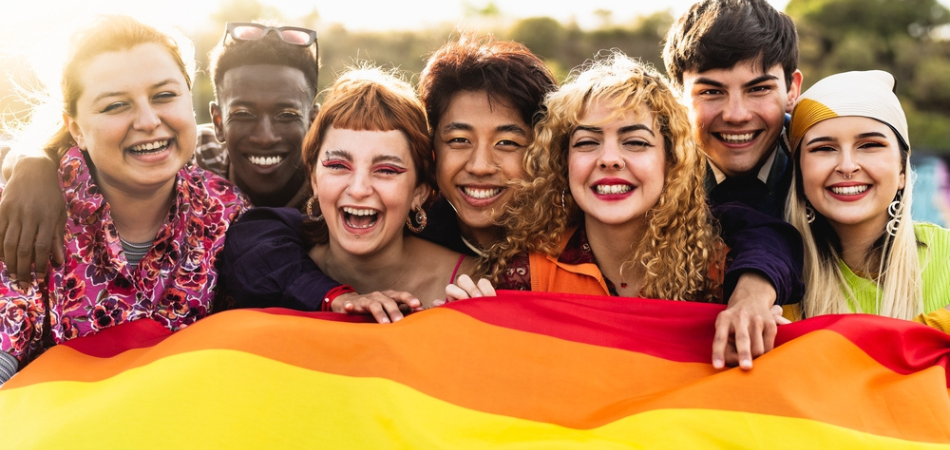 Drug use and addiction do not discriminate, and every community, including the LGBTQ+ Community, is affect...
More