Alcohol Addiction and How to Treat It
Ernest Hemingway famously stated that 'drinking is a way of ending the day', and, after six pm each day, millions of people across the UK take him at his word. Pub doors fly open, wine corks pop and hard spirits crackle as they hit the ice, putting a quick full stop to the working day and welcoming the arrival of evening.
Over half the adults in the UK take part in this ritual on a near daily basis, and for some it is just a small bonus of the day. For them, the bottle can be put down as easily as it is picked up. But for others drinking becomes a bigger and bigger part of their life. Six pm might seem a long way away, and once the first drink of the day has arrived it feels almost impossible to stop.
Over 7.5 million people in the UK show signs of alcohol dependence, according to NHS figures.
For them, drinking alcohol is an important, or maybe the most important, element of their daily life and without it they may feel unable to function properly. For a long time they might find that the growing role alcohol plays in their life goes unnoticed, even by themselves – alcohol is so central to our culture that it can be easy to forget that, like many drugs, it is an addictive substance.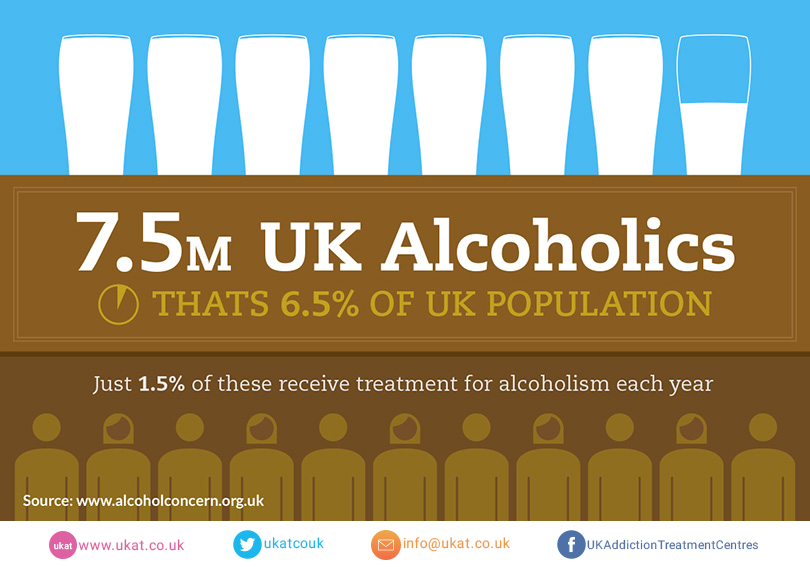 Alcohol dependency is mostly different for different people. Although any two sufferers would share things in common, their relationships with alcohol might at first seem to be nothing alike. Say one person binge drinks until they pass out each weekend but rarely touches a drop on workdays, while another drinks red wine steadily throughout each day but never becomes 'drunk'. Both might consider the other to be alcohol dependent but not think the same of themselves.
This can make it difficult for people to identify themselves as alcohol dependent, even as drinking has a more and more damaging effect on their relationships, health and enjoyment of life.
Here are some drinking patterns which might suggest alcohol dependency:
Drinking in the day time on a regular basis
Drinking large amounts in social situations
'Blacking out' – drinking so much that you have no memory of what you did the next day
Drinking regularly to relax or feel better
Drinking before stressful events
Though alcohol dependency may come in a number of shapes and sizes, the chemistry at the heart of it is the same for everyone. When problematic drinking habits continue over a period of time, it leads to long-lasting electrical changes in the brain, which cause the compulsive attitude towards alcohol that characterizes alcoholism. It is as if the brain is hijacked by the chemicals in alcohol, which then channel all of the minds attention towards the finding and consuming of more alcohol.
What this means is that alcohol dependency is not a failure of will or lack of strength of character. That is what people believed for a long time, and many still believe even now, but progress in science over the last few decades has shown us that alcoholism is rooted in both biology and behaviour, and that it is in fact a 'bio-behavioural disorder'. Biology and behaviour are two sides of the same coin, and alcohol dependency cannot be treated by just focusing on one side alone.
Physical dependence can follow too. This is when the body adjusts itself to alcohol to the extent that stopping drinking causes withdrawal symptoms, such as shaking, feeling sick to your stomach and feeling tired without reason.
Even before this point, heavy and prolonged drinking can cause a number of physical symptoms, due to the effect of large amounts of alcohol on the body.
Possible signs of alcohol dependency
Lack of or increased appetite, leading to weight loss or gain
Increased tolerance to alcohol, meaning that more and more alcohol needs to be consumed to feel 'drunk'
Blood Vessels appear on the skin, looking like tiny red spider-webs. These are called spider angiomas
Swelling or redness on palms of the hands
Redness of the face, especially the eyes and nose
Sore or upset stomach that doesn't go away. This might be accompanied by heartburn
Repeated Infections and skin sores
Feeling Clammy and sweating without reason
Numbness and tingling in the hands and feet
Feeling unsteady on the feet
Anxiety or Depression
Alcohol Withdrawal Symptoms
Physical symptoms
Hand tremors and a general feeling of shakiness
Nausea
Fatigue
Sweating
Visual Hallucinations
Psychological symptoms
Anxiety
Depression
Insomnia
Restlessness
Irritability
What are the causes?
It might seem irrelevant to consider the causes of alcoholism. Isn't the path that leads each alcoholic to dependency different? And surely recovery is about looking to the future? Alcoholism can creep up on you, working its way into your life almost unnoticed, and by the time it is recognised the original catalysts might seem to have been left far behind. But though there are a number of different elements that can lead to alcohol dependency, there are common factors that spread across almost all alcoholics, and it is worthwhile considering them as understanding paves the way for recovery.
The Twins Experiments.
Because Identical twins share 100% of their genes and fraternal (non-identical) twins are genetically different , twins are an invaluable resource for studies into the role of genes in alcoholism. A large number of studies have compared the incidences of alcoholism in identical twins and fraternal twins, where at least one of each twin has received treatment for alcoholism. The studies show a significantly greater concordance in alcoholism patterns among identical twins than fraternal twins, suggesting that alcoholism involves a hereditary quality.
Many alcoholics might want to change but feel unable to do so and unwilling to take the first step. They might not admit to having a problem with alcohol or to needing help.
The Health Risks
Nobody starts out drinking thinking that they will let alcohol destroy their health. Even if we are aware of the harm that prolonged heavy drinking causes to the body, we tend to think that we would never let it get to that, that we would stop long before then. But the truth is that drinking causes great harm to the body long before we can see the effects, and the most serious consequences might not be that far off.
An idea of the extent of the negative health impacts of drinking can be seen in the NHS finances, which show that alcohol consumption is responsible for over 10% of the cost of healthcare in Britain.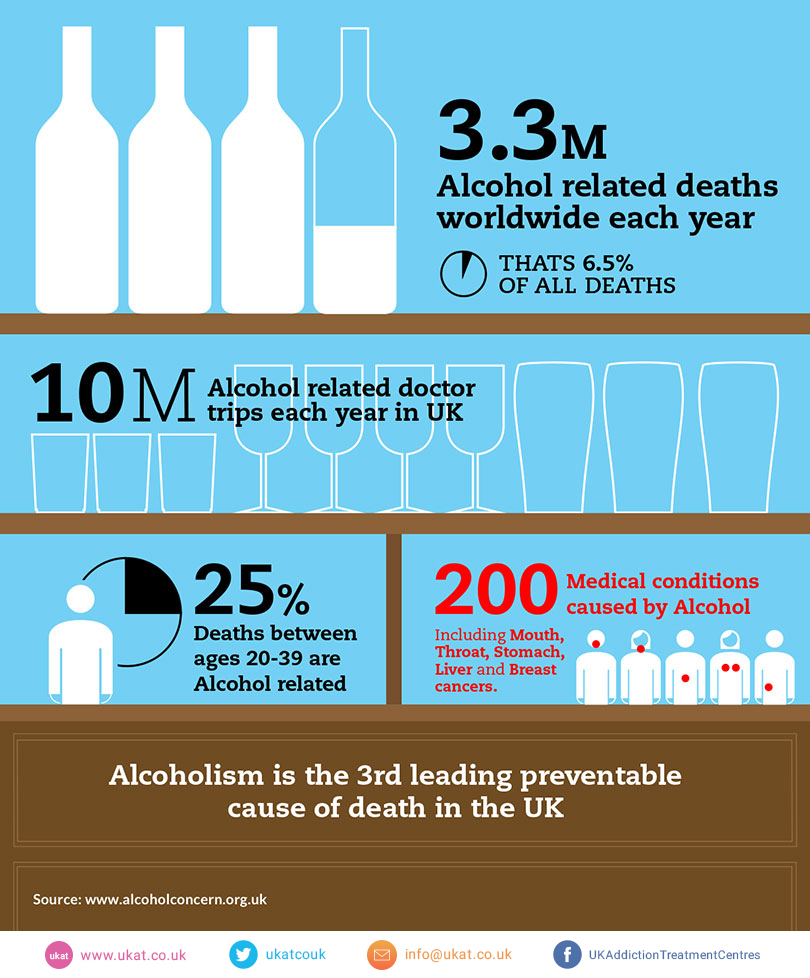 Anxiety, depression and suicidal thoughts are all common results of alcohol dependency. This is because prolonged heavy drinking effects the neurotransmitters in the brain which regulate mood. Two of the most important neurotransmitters for mood are dopamine and serotonin, which are responsible for creating the positive feelings that are vital for a healthy mind. Research shows that the levels of both serotonin and dopamine are often heavily altered in the brains of alcoholics, leading to deteriorating mental health and, often, a negative spiral of alcohol use.
Dependent drinkers often talk of how their drinking is a personal choice, saying that it affects them and them only. But the repercussions of alcoholism go far further than the dependent drinker themselves, and can have deep impacts on families, relationships, strangers and even the state.
Recovery
The first stage in recovery is often the hardest; alcohol doesn't loosen its grip easily, and going 'cold turkey' can be extremely dangerous. Because of this, alcohol rehab tends to begin with a 'detox' – a medically managed detoxification programme designed to safely remove toxic substances from the body and remove physical withdrawal symptoms. We cover alcohol detox in depth on a separate page.
Detox deals with the body, but the majority of alcohol rehab addresses the mind. As discussed above, alcohol abuse causes distinct changes in the brain. But the brain can change and as it does, the relationship with alcohol can shift completely. For each patient, the path will be different, and treatment should be tailored accordingly. Below are the treatment options consistently proven to be most effective include:
Twelve steps is a recovery framework which can be followed not only through the time spent in rehab, but also the months and years afterwards. Originating from Alcoholics Anonymous, it provides a set of guiding principles that have been at the core of the recovery of millions of people across the world.
Group therapy is a cornerstone of both the twelve steps and almost all rehab programmes. With a culture of openness and honesty, group therapy enables members to draw on the support and experiences of their peers to discover more about their own addictions. In group therapy, members exchange stories, coping strategies, hopes and difficulties. With the structure of the 12 steps program, these groups can help patients work through the process of recovery in an atmosphere of mutual respect and support.
Cognitive Behavioural Therapy (CBT) is one of the most effective tools for training the patient out of the ingrained habits and thought patterns of alcoholism. A very active type of therapy, CBT uses a range of techniques from role playing to story-telling and homework. Research has consistently found that it can assist significantly with building the coping skills necessary for maintaining long term recovery.
---